Our story begins in Old Town Albuquerque, New Mexico as the spring turned to the summer of 2015. Having arrived in New Mexico, camera in hand, on the train like a refugee from America's frozen north coast of New York, I had an interesting problem: I had no dishes. I had no plates. No flatware. No pans. No cups. No glasses. No nothing. Zero. The shelves that held a collection built over years were 2000 miles away back in New York.
Beginning to build a new collection of dishes was a unique position to be in as an adult, but moreover, as a food photographer, but I had a plan — for 30 days, acquire a new piece everyday and shoot in my beautiful new outdoor space of Old Town Albuquerque. As a prelude, I began with the item that is always at hand in my camera bag and has saved many an impromptu picnic. Be Prepared.
The first piece is classic – Given to me by a friend with a candle in it, it has been cleaned and repurposed for the Ball Jar Banana Split and photographed right here in Old Town Albuquerque.
ITEM TWO:
The Lowball Glass.
For a quarter from the estate sale down the street comes my new lowball glass. With its heavy base, two fingers of Protestant whiskey, and the year and initials that lends itself to a fictional story, it is the perfect addition to the studio's now two-item collection.
ITEM THREE:
The Noodle Bowl.
On the stretch of Central Avenue, between Albuquerque's Old Town and New, I found tucked on a low shelf of St. Joseph's Thrift Store this simple noodle bowl. Noodles with miso, bok choy and seaweed fitted into the bowl and photographed under the New Mexican sun on a stuccoed wall right by the photography studio. It is classic, low-key bowl, that will accent a variety of foods.
At the cost of $1.39 for a pack of ten from the grocery store in Albuquerque's Wells Park neighborhood, it is hard to find a more versatile reusable utensil in a food photographer's bag for the buck than the bamboo chopstick. For propping, stirring, poking, moving and occasionally even eating with, they are almost as valuable as a role of paper towels in the studio. Today, they are paired with a red chile dusted fried egg I got from a local chicken I know.
ITEM FIVE:
The Black Plate.
Just a short 15 mile bike ride north-east of Albuquerque is the Goodwill store on Paseo del Norte, where I found this black plate for $1.99. What has become a staple for food photographers, the black plate frames colorful food, like this guacamole with red chile, green onion and corn tostadas, beautifully. Shot on a bench in Old Town one block from the studio, the black plate is a welcome and necessary addition to the food photography collection here in New Mexico.
ITEM SIX:
The Coupe Glass.
ITEM SIX: The Coupe Glass. Sprung from the fabled history of Ancien Régime France, the Coupe Glass made it though the revolution, though its shape model famously did not. The Coupe is a staple for beverage photographers. Sadly, I recently heard a revolting story of the specific demised of the coupe glasses I left in New York, but fortunately I found a new set for 99 cents here in New Mexico. C'est la vie. Vodka, tonic and thick slice of orange photographed in the plaza in Old Town Albuquerque.
ITEM SEVEN:
Small White Plate.
For simplicity, it is hard to beat the small white plate. Had for 25 cents at the thrift store down the street, the low-rise rim and the tea-cup scale provide the perfect separation for small food photography where the wrapped product needs to also be in the shot. However, this is a special case where the product (the Los Muertos Eternal Fiesta Dark Red & Green Chile Bar) is part of a fundraiser for my friends over at the Red Wagon Urban Farm here in Albuquerque, New Mexico. I'm excited to see this new farm get thing rolling with some seed money and ready to jump in with a new documentary project on Instagram – REDWAGONURBANFARM – Check it out!
ITEM EIGHT:
The Rooster Glass.
While not something I would normally stock the studio with, the Rooster Glass was given to me last night at the Red Wagon Urban Farm fundraiser by my friend Persephone who has been following my New Dish Project and bought it especially for my collection. Thank you, Persephone! It is a welcome addition, shot today with a strawberry yogurt parfait here in Old Town Albuquerque New Mexico, where people are starting to notice that some guy keeps walking around the plaza photographing food in various locations.
ITEM NINE:
The Black-rimmed Dinner Plate.
The black-rimmed dinner plate acts like a proper black frame and white mat for a food photograph. Given to me by Peri (thank you, Peri!) last night in a flourish of activity that emptied damn near every dish (with accompanying provenance) from the cabinets of her Albuquerque home. I tried a variety of items on the plate and every one looked great, in part, because the plate provides a border between the food and the background. The best, though, was definitely Mary's version of the Martha Stewart Strawberry Layer Cake, adapted with apricot jam and served at her son's fifth birthday today. Happy Birthday, Trudell!
ITEM TEN:
The Black Bowl.
Scratched enough to show texture, though not so much as to be distracting, I found this black bowl at the Goodwill for $2.00. The key with using black dishes in food photographs is to manage the void, not let it consume the photo. Sometimes you want a range of shades reflecting the lighting and contrasting the food. This slightly over-grilled drumstick is a perfect example of the way texture can be reflected with black. Shot right here in a shady spot in Albuquerque, New Mexico and eaten promptly after.
ITEM ELEVEN:
The Egg Cup.
Like a corseted Victorian, what this new egg cup of mine lacks in practicality, it makes up for in elegance. 25 cents at the thrift store (whose name I was recently encouraged not to reveal lest people swarm in and grab all the good stuff), the egg cup almost seems like a throwback to an earlier food time before the fear of salmonella cast a shadow over the soft-boiled egg. Fear not, I know this chicken and her blue eggs, photographed here in Old Town Albuquerque, New Mexico.
ITEM TWELVE:
The Cheese Knife.
There is a world to cheese knives that if I as a food photographer had a cheese client I would gladly get into, but as the New Dish Collection is something of a thirty-dish overview, my new 25 cent cheese knife will suffice for now. These knives are paired with the hardness of cheese and often have a shape honed over time. In this case, I've paired this with an Irish Cheddar that looks at home next the wood barrel here on the plaza in Old Town, Albuquerque, New Mexico.
I would be remiss if I didn't include in this collection an item that I almost forgot that I had on me, but have reached for in my pocket instinctively since I was a teenager every time the need arose- the P-38. Ounce for ounce, you'd be hard pressed to find an item that has met the needs of more hungry American soldiers than the P-38. Designed in WWII to open food cans, you will still find the P-38 on the key-chains of veterans of a certain age because it continues to perform the same job with the exact same precision without rusting, sharpening or breaking more than 70 years later. Issued to G.I.s until the advent of the MRE ration in the Eighties, food photographers in the self service can pick one up like I did new for 50 cents at a military surplus store.
ITEM FOURTEEN:
The Plastic Deli Container.
Ubiquitous, yet indispensable, the plastic deli container is available in a variety of sizes and has revolutionized food storage, transportation and sales. Somewhere between when they stopped putting Big Macs in Styrofoam boxes and today, these clear plastic, throwaway containers showed up in the service of a hungry public too hurried to get a plate. In a well appointed food photography studio, stacks of these await moving foods. At the local grocery store here in Albuquerque, a plastic deli container can be had for all of seven cents complete with the fishmonger's choice of the single best looking, fully cooked, wild caught, Chinese crawfish.
ITEM FIFTEEN:
The Pewter Platter.
So maligned is the pewter platter that it garners no more than a dollar from the church sale. Let me say though, in the defense of this base metal, that pewter has a quality overlooked by snobs seeking shiny, pretty things, rather than the underbelly slag-filled late night sandwiches of kings. Ugly as it is, the Elvis Sandwich, with the triumvirate of bacon, peanut butter and banana fried in bacon grease, adds a convert with every bite. Today, the king reigns in another, holding high my new pewter platter in the early evening in Old Town, Albuquerque, New Mexico.
ITEM SIXTEEN:
The Tulip Glass.
Among beer aficionados and barkeeps of a certain ilk, there is much debate about glassware. While the durable shaker pint glass is still favored by barkeeps that prefer not to constantly buy new glasses to replace the broken ones, the tulip glass is preferred by many who would rather have a glass that accentuates the taste and aroma of the beer. I am not a picky man, but given the choice (and the glass) I'll take the tulip. Seen here is my new tulip glass from New Mexico's own Tractor Brewing Company, photographed promptly after today's noontime sleet storm right outside my Old Town food photography studio.
ITEM SEVENTEEN:
The Bamboo Spoon.
For the moment, I have sidestepped the whole issue of a wooden spoon. A good, seasoned wooden spoon for sauces is elemental for a chef, passed down through generations in some families, the wood type debated, the shape argued over, but I am not a chef, I am a food photographer, I'm not looking for tools that make food taste good, I'm looking for tools that make food look good. So today I found three new large bamboo spoons for $2.99. My favorite is this haphazardly asymmetrical one with a slight concave. I have to say, it looks pretty good with the rice and sesame seeds in the backyard of the Albuquerque studio.
ITEM EIGHTEEN:
The Toothpick.
It is not too much of a stretch to say that food photography prior to the digital revolution owes everything to the lowly toothpick. Indispensable, undetectable, disposable; a pack of 250 were on sale tonight for 79 cents. Seen here holding together two pieces of green chile bratwurst, ladies and gentlemen- the toothpick.
ITEM NINETEEN:
The Stoneware Plate.
Heavy and handmade, with pits and impurities, my new stoneware plate has a rough quality that matches rough-edged foods. Given to me by my friend Megan, she said she liked the minty green. She said that orange foods would really pop on it, which they would, but I don't have any orange foods to photograph today, and orange is so tough to rhyme. Plus, I have a plan which is these ice cream sandwiches.
ITEM TWENTY:
Blue Glass Cup.
As a guest on the podcast of the Self Employed Happy Hour this morning, where I talked about the New Dish Project and the process of putting together a new food photography studio in Old Town Albuquerque, New Mexico, I was given this blue glass cup filled with a mimosa. Without getting into the numerous merits of blue glass, or the old world geography of traditional east-west touch points along the bowl-cup-glass shape continuum, let me just say thanks to Peri for the cup, the mimosa and for having me on the show.
ITEM TWENTY ONE:
The Bubbles Plate.
Two lifetimes ago now, there was a restaurant in Albuquerque's Nob Hill neighborhood called Café Bubbles that had me shoot my first restaurant ad, hosted my art shows, gave my toddling daughter free reign over the place and served their food on these blue plates. This is one of the few remaining plates, given to me by my friend and former restaurateur, Mary. Like Mary says, everything looks great on it. Especially orange things.
ITEM TWENTY TWO:
Rough Painted Bowl.
Sometimes it helps to have a bowl that is a little rough around the edges. With a little chip or scrape, it looks like it has a bit of experience. Sometimes I want to convey that experience, like with this rough painted bowl with the rice and pickled carrots within shot here in Old Town Albuquerque where everything seems to have a little chip or scrape earned through the experience of over 300 years. One thing that my experience as a food photographer taught me is that you can easily line up your pickled carrots in a neat row if you use a toothpick. Come on, don't be a toothpick hater.
ITEM TWENTY THREE:
The Serving Bowl.
Big and green and filled with marshmallows, the bowl from the yard sale cost four dollars
ITEM TWENTY THREE: Paper Towels.
Three things I really enjoy are: foods wrapped in bacon, tools that actually work when I am trying to photograph foods like these bacon wrapped jalapeños and modifying quotes by Napoleon to suite my own needs. That's right – A food shoot runs on paper towels.
ITEM TWENTY FIVE: Blue Rimmed Glass.
To mark the beginning of summer, I filled my new blue rimmed glass with one of my summertime favorites, the Arnold Palmer and Jack, and headed into Old Town Albuquerque. Just off the crowded plaza I found this red bench for this photograph and quickly shot the cocktail as tourists milled about. As I walked back to the studio, the band in the gazebo lit into a spirited version of a Chuck Berry song in Spanish that was the perfect accompaniment for a beverage that is also made better by blending classic elements in unexpected ways.
ITEM TWENTY SIX:
The Lighting Jar.
Onward into summer, I was given a lightning jar at an early-evening picnic in the park. All glass and with the edition of the metal hasp, the lightning jar was marked improvement over the Napoleonic stage of canning. Durable, reusable and full of salsa, the lightning jar makes a great addition to the New Dish Collection.
ITEM TWENTY SEVEN: The Square Bowl.
I usually shy away from crazy-shaped bowl finding that they distract from the food, but this white porcelain square bowl is understated enough to hold up to foods like these dumplings. Bought new for $2.99, I shot this latest addition to the food photography collection in yet another great spot here in Old Town Albuquerque.
ITEM TWENTY EIGHT: The Cut-away Bowl.
Perfection with noodles is an event, not a process. It occurs irregularly, and here just shy of a mile high in Old Town Albuquerque, it takes a bit of an adjustment for an expatriate New Yorker. Altitude. Attitude. That said, for a food photograph of noodles, I'm good with this.
ITEM TWENTY NINE: The Bamboo Cutting Board.
Is it fair to say I'm a convert? No, but I can speak at length of the benefits of a bamboo cutting board. Though again, I am a food photographer, not a cook, so I am still on the lookout for a well-used hardwood cutting board or ten to shoot on, but the first addition to the New Dish Collection is the clean, light bamboo version that cost all of $7.99 new. Stacks of radish stuffed paratha look great on it here in the Old Town Plaza, Albuquerque, New Mexico.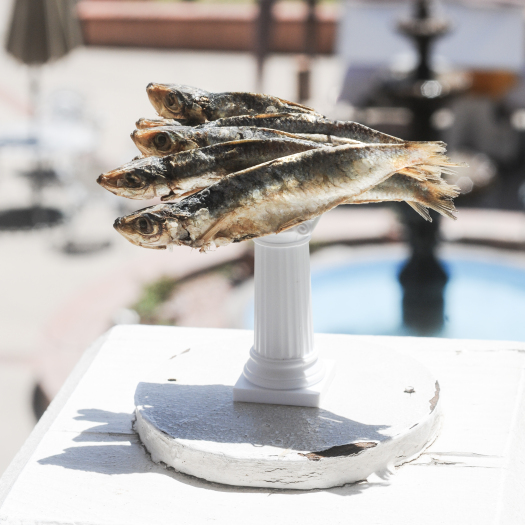 The final dish of this New Dish Project is a fitting conclusion to this project and a great tool when you want to elevate some food in a dramatic way. This project has been a chance to explore and shoot in the diverse environment of Old Town Albuquerque, New Mexico, with its unending textures and beautiful, natural light. It has been a chance to spend some time collecting and shooting new dishes, but moreover, thinking and writing about the tools of food photography. And it has been a chance to meet my new neighbors and show the kind of work that can be produced out of this new studio. It has also established a baseline for a new normal. A month into being here, Old Town regulars now hardly give a second look when I walk by with a camera, a miniature column and a fist full of dried herring.